Throughout 2022 the Growing Stage has remained focused on re-engaging and, at times, re-inventing how we can continue to move our mission forward after the uncertainty of the past two and one half years.

While we entered 2022 hopeful, we were also determined that through our collective efforts we could and would make a positive impact on the young people we continue to serve. We sincerely thank you for your continued investment in our ongoing mission.
Accomplishments Made Possible by Your Support
2021/2022 marked the company's 40th Main Stage season and the long road back. In 2022, we included two World Premiere productions, and we will be presenting another this February. We believe that it is important to not only to share new voices to our young audiences but also to play our role in fostering the growth of emerging artists. In February 2022, we presented BOOGIE!, The Laurie-Award-winning play from our 9th Annual New Play Reading Festival by New Jersey playwright Angelle Whavers. The piece focused on a young girl, Alex, who embarks on a personal journey of overcoming her fears. 
In July 2023, we presented GEORGIA MAE JAMES UNPLUGS AMERICA by Tennessee playwright Elyzabeth Gregory Wilder, the 10th recipient of our annual festival. This piece deals with the adventure shared by three siblings when the power goes out and they have to rely on each other rather than their phones. 
This coming February we present our 11th Laurie-winning playwright Martha DeSilva's fantasy MADDIE & ELEANOR that connects the past to the future. A young girl from the 21st century mysteriously connects with Eleanor Roosevelt, and the 20th century First Lady becomes a confidant and friend.
This fall we marked the start of our first full five-production Main Stage season with R.L. Stine's GOOSEBUMPS. While we are continuing to slowly welcome families back to the theatre, our holiday production THE LAND OF FORGOTTEN TOYS provided us with our first show ending "in the black" since 2019. That said, throughout the calendar year and into our 41st season, we have been averaging between 40 to 60% of what our audience numbers were prior to the pandemic. Nothing captures the challenge before us like numbers. For our holiday production in 2019, ELF THE MUSICAL we had a total audience of 2,687 with an average audience of 135. In 2021 we presented THE STORY OF THE NUTCRACKER which brought in a total audience of 875 and an average audience of 97. At our recent production of THE LAND OF FORGOTTEN TOYS, our total audience was 1,217 with an average audience of 135. 
We are definitely trending in the right direction, though the length of time it will take and how economic conditions and lingering health fears will impact its full return remains uncertain.

Our arts educational programming has bounced back at a faster pace than the production aspect of our organization. In 2022 we returned our five-week Summer Arts Day Camp to full operation and our fall semester of our Creative Arts Academy out-performed pre-pandemic numbers.
(Year in Review continues, below)
The mission of The Growing Stage is to nurture the development of the performing arts through education, and to create, produce, and perform works that engage the entire family.
Outreach Remains a Vibrant Part of Our Ongoing Effort
We are working to form mutually beneficial collaborations to broaden our ability to expand our audience's exposure to the performing arts. Two active collaborations are with The Joe Kubert School of Design in Dover, for which we are providing paid internships for college-aged design students in scenic and graphic arts, and the Lakeland Youth Symphony. This non-profit provides string instruction & orchestral ensembles for ages 5-18. We are planning a joint fundraising event to be held at the Palace on Saturday, April 22, 2023. It will feature, in part, a performance by their students of Stravinsky's THE FIREBIRD.
The Growing Stage re-instituted our Sharing the Spotlight program that showcases another not-for-profit organization at each Main Stage production. In the previous season, we hosted Family Promise of Sussex County,
The Seeing Eye
, and most recently at our holiday production,
SMILE
of Hopatcong. These partnerships are structured to benefit both our organization's work and our partners by bringing awareness and support to both efforts. The organization is given a display table to highlight their organization's work in exchange for providing our house staff with two to three volunteers at each performance. We also donate back $1.00 from every ticket sold in support of their cause. To date, we have raised and given back over $2,000.00 to our community.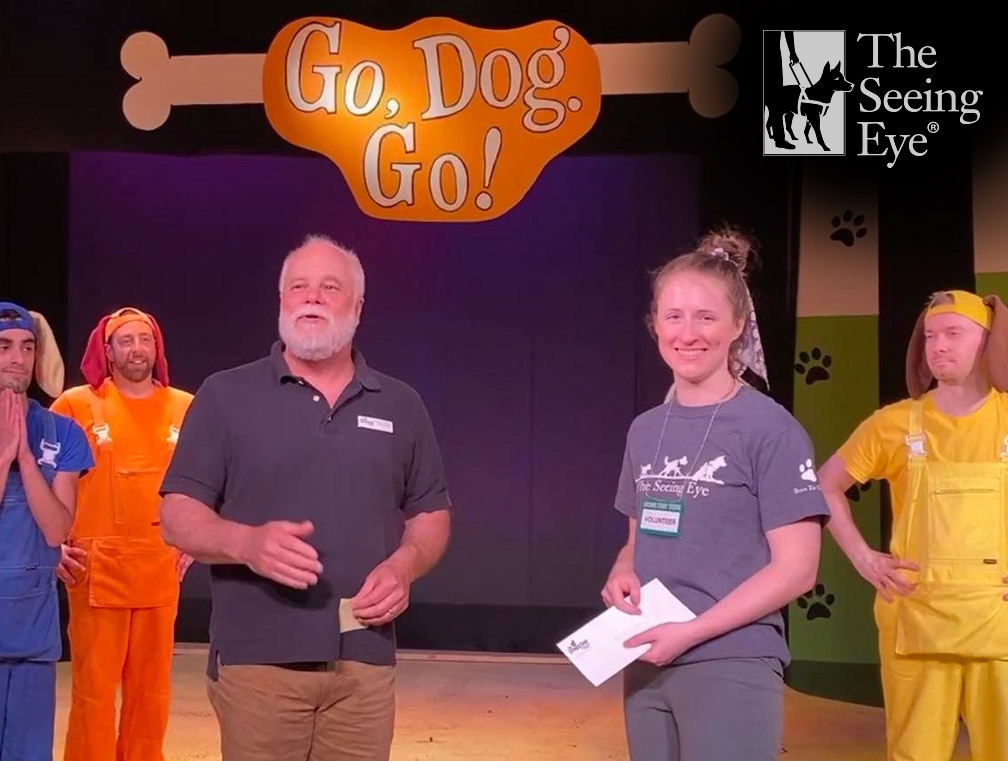 Inclusiveness and accessibility remain key components in all our programming. We have established internships with students from the Lenape Valley High School's Structured Learning Experience program and the Celebrate the Children School in Denville. Both schools focus on young people with developmental challenges. We have also developed an intern program with area high schools for students interested in pursuing further study in the performing arts at both Morris County and Sussex County Schools of Technology.
Our
fundraising efforts
have allowed us to keep our ticket prices in line with cinema prices to encourage live theatre as an affordable option, and our education registrations at an economically accessible level to ensure participation for all families. Through the Brueckner Family Foundation, we have also created the Stone Meadow Fund which provides complimentary tickets and scholarships for families economically impacted by the pandemic. We deeply value our role in our community and support initiatives that contribute to its vibrancy and livability.
A Pivotal Commitment Shared to Ensure Our Future
Through a five-year commitment of support provided by the R&R Family Foundation which concluded this October, the Growing Stage has paid off the $545,000 mortgage for the Palace Theatre. In addition, through the foundation's ongoing support, the Growing Stage has also paid down our line of credit to a $0 balance, allowing for the organization to be essentially debt free. The R&R Family Foundation, led by Kathryn P. Romano, carries on the philanthropic efforts of Dominick V. Romano, who among his other vast community work, served as the Chair of the Growing Stage's Advisory Board during the group's main restoration effort of the Palace Theatre in Netcong.
This commitment shared by the R&R Family Foundation allows for a greater amount of our focus to be placed on raising the necessary funds needed for ongoing growth in programming and continued capital improvements to our historical facility.
Throughout our 41-year history the Growing Stage has confronted many challenges on its ongoing journey, but we have always moved forward thanks in large part to the generosity shared by our funding partners. We appreciate and strive to respect each gift as an active investment made in our mission. While we continue to face the unique challenges created by the pandemic, we have also taken steps to ensure the Growing Stage's sustainability for years to come.
We have begun to see interest in schools returning for field trips much sooner than originally anticipated. Main Stage Matinees, our weekday school performances at our theatre, are available for our final three productions: MADDIE & ELEANOR, THE LIGHTNING THIEF, and DON'T LET THE PIGEON DRIVE THE BUS. Performances close with talk-back sessions between artists and students, and all three productions provide Activity Guides for the students and faculty to continue the theatre experience back in their classroom. To date, we have 25 schools attending shows this spring!
We are seeking funding to make our production operation more energy-efficient and cost-effective. The lighting instruments that the Growing Stage currently utilizes were purchased "used" in 1990. At that time, while they were in relatively good shape, they were at the time 20+ years old. We use approximately 100 lamps to create a professional lighting design for our Main Stage and Studio Series productions as well as numerous special events, concerts, and educational showcases throughout the season – all included in our over fifty performances per season.
The theatre has been investing in upgrading our technical production values over the past five years. Over that time, we researched and eventually purchased a new ETC dimmer pack, lightboard, and most recently restored the fly system capability of the Palace Theatre through a $350,000 project completed during the pandemic. The ColorSource unit that we plan to purchase takes 110 watts of power at its maximum use as opposed to our current fixtures that utilize 1000-watt bulbs. Each unit has the capability to change colors, which provides the Historic Palace Theatre flexibility of one lamp being utilized for multiple applications for the creation of different lighting designs. For example, currently, to create a blue, green, red, or yellow effect onstage it would require four different instruments. The instruments we'll be investing in require one. The total cost for the project is $205,819.00.
Want to know more about all the ways you can support the Mission of The Growing Stage?
Click below for details on giving, volunteering, and advertising opportunities.
In 2021, we added the Playwriting Festival for Young Writers aged 10 to 18. While we provided constructive feedback to each submission, we selected four finalists from the scripts submitted in this inaugural attempt. The program is structured to provide each of our four finalists with a professional playwright who mentors in the further development of each work. We then present a scene from each finalist at an in-person event we will hold in the Spring, 2023. Due to the amount of time each playwriting festival demands in order to be truly effective, we have instituted a change by alternating between the two each subsequent season. For example, our 2021-2022 featured the New Play Reading Festival while 2022-2023 will host the Playwriting Festival for Young Writers.
We are continuing to develop productions with a full cast of professional performing teaching artists will be offered as virtual Main Stage Matinees, directly streamed into the classroom. Through a grant from the New Jersey Cultural Trust Fund, we were able to significantly upgrade our video production systems. These will be accompanied by activity guides for the students, faculty lesson plans, and a live Zoom talk-back with the artists and production team for each production. We are hopeful that this combination of mediums will provide a "taste" experience of live theatre as well as a behind-the-scenes look at the artistic process. For the coming season, we have two productions that will be offered in this manner: TALES FROM THE GARDEN, a piece that celebrates the poetry, history, and legends of New Jersey, and TALES FROM THE GREAT SWAMP that we are creating as a Theatre for the Very Young in collaboration with the New Jersey Highlands Coalition.
I have always believed that funding is most effective when it's a collaborative investment between the contributor and the organization benefiting from the support. On behalf of the Growing Stage and the young people we have the privilege to serve, I would appreciate your consideration for continued support in 2023 in whichever area is most meaningful for you. It will, as it has always done, make a difference. If you have any questions or would like any additional information, please feel free to contact me at your convenience. Once again, thank you for your continued support.
Best wishes,
Stephen L. Fredericks, Executive Director