Gift Certificates Now Available!
This year, give the gift of theatre.
TGS gift certificates are the perfect gift! Use them to attend shows, shop for official Growing Stage merch, or Play, Learn and GROW in our 2021 Winter Classes beginning Jan. 16th.
The Official Growing Stage Coloring Book
Bring the beauty of the Palace Theatre murals home.
The Palace walls are graced with imaginative art inspired by 39 years of Growing Stage productions. This one-of-a-kind book features pages for all ages, perfect for coloring alongside Mom & Dad! Match the character you color to the character on the Growing Stage mural, or use your own colors.
Murals & Book Art by Perry Arthur Kroeger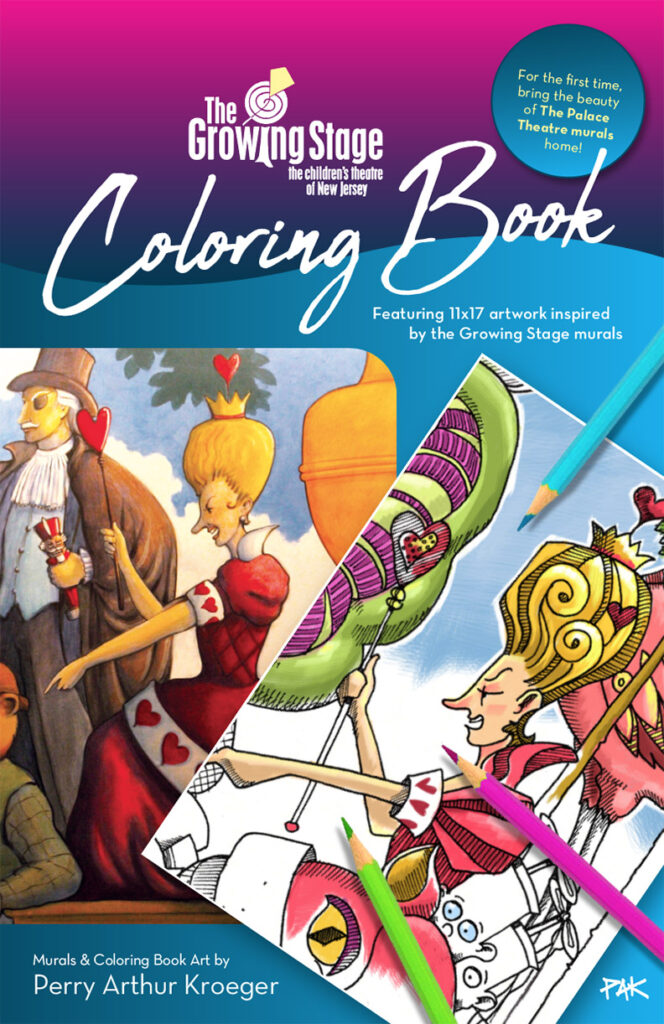 The Growing Stage Coloring Book features (20) 11×17 poster-sized coloring pages inspiredby the Growing Stage murals, perforated pages for easy display and varying levels of complexity for everyone in the family.
The perfect gift! Buy more and save on this season's most unique stocking-stuffer!
$6 shipping fee will be added at checkout.
To order, give us a call or click the white dropdown box below.
Intricate detail for adults
Mom and Dad will lose themselves in the detail-rich recreations of the Palace Theatre murals.
The little artists in your life will enjoy exploring their own versions of  the mural art with thicker lines and more room to play.
Coloring pages for all ages.
"To practice any art, no matter how well or badly, is a way to make your soul grow.
So do it."