Four new plays.
Four live readings.
One winner.
ON STAGE | New Play-Reading Festival
Welcome to the 11th Annual New Play-Reading Festival 2021-2022
2022 SHOWCASE
Saturday, April 23rd at 4:00PM
Open to the Entire Family! Tickets: $10 Per Person
Please join us for our 2nd and final round of the 11th Annual New Play-Reading Festival. We have restructured the afternoon to highlight selected scenes from each of our four finalists, chosen from a field of over 125 entries. From this very special culminating event one will be selected to receive a fully mounted production in our 2022-2023 season.
Following the reading, we will have a post-showcase talkback with the finalists plus food and beverages.
By Glenn Weyler | North Carolina
A young Affrilachian girl has a secret—she and her family are giants hiding in plain sight. Now that she has reached high school age, she must leave home school and forcibly reduce herself to fit in with the other students. At the school, she meets another girl like herself—but this one is a runaway with a lot of dangerous ideas. Can she, and her family, keep their own secret safe and help a lost soul as well?
Meet the Author | Glenn Weyler
A native of North Carolina, he spent much of his childhood attending children's theatre productions and day-dreaming. He has a lifelong interest in the fantastic, wanting at various times to be an animator or a puppeteer. Discovering the limits of his own drawing and sewing skills, he chose to major in theatre instead. He has spent the last twelve years teaching high school theatre and trying to understand "the youth." Despite the hours of teaching, he has never stopped writing–giving a number of original works as gifts. He still resides in North Carolina along with his wife and a cat best described as the offspring of a teddy bear and a cactus.
Jenna's secret desire is to be an artist like her deceased mother, however she is full of self-doubt. Her father, who just remarried, brings Jenna to stay with her grandmother, a woman she hasn't seen in 12 years, while he and his wife go on their honeymoon. Jenna begins a journey of self-discovery as well as a discovery about her mother, June, though her grandmother and the creatures who live on the island.
Meet the Author | Karen Ruetz
Karen Ruetz, an emerging playwright in the Atlanta area, has over twenty years of experience as an actor and director. Her goal is to write compelling stories featuring women in key roles that are easily produced. Her comedy, For A Good Time, Mary was produced in Canton, Georgia in April 2019 and will have a second production in 2022-23. She has had staged readings of several of her full length plays and in 2020 had many short zoom plays produced as well as several short plays written for children performers.  Karen is a member of Merely Writers in Atlanta, the Honor Roll and the Dramatists Guild. www.karenruetz.com
By Ann Eskridge | Michigan
The Sanctuary, a play about a young boy who has lost his father, befriends a neighborhood eccentric by helping her make her shrine out of junk that honors people who have died.  Over the years, this shrine becomes an eyesore to the neighborhood, and they want to tear it down. When Little Man hears this, he tries to warn Lucy Johnson that the shrine is in danger. But by the time he gets to her house, the shrine has been demolished and she is gone.  What is left are pictures he will cherish and the wisdom that she instilled in him.
Meet the Author | Ann Eskridge
Ann E. Eskridge has a passion for African American history and culture. She has explored subjects like the Underground Railroad, all-black towns in Oklahoma, New Orleans' free people of color,  the Gullah community on the Sea Islands, and Chicago's black tin pan alley. She helped found Extra Mile Playwrights Theatre, a playwriting group dedicated to creating exciting urban theater in Detroit. 
By Martha King De Silva | Washington DC
When Maddie Leonard returns home after her first day in fourth grade, she is fed up with school-yard bullies and flaky ex-best friends.   As she turns to her beloved iPhone for solace, she gets an unexpected surprise with a magical visit by Eleanor Roosevelt.
As Maddie and Eleanor navigate their budding relationship through old and modern technologies, they inspire each other, laugh with one another, and discover a universal truth: friendship transcends everything.
Meet the Author | Martha King De Silva
Martha King De Silva's plays for children and adults have been produced at a variety of venues across the country including, The Samuel French Off-Off Broadway Festival (New York, NY); The Industrial Arts Theatre (Denver, CO); The National Portrait Gallery (Washington, DC), Children's Theatre of Charlotte (Charlotte, NC), Imagination Stage (Bethesda, MD), and Synchronicity Theatre (Atlanta, GA).
She has been a recipient of grants from the DC Humanities Commission and the DC Historical Society and was a nominee for Outstanding New Play (Helen Hayes Award). Her monologues have appeared in the Best Women's Stage Monologues of 1996 and the Best Men's Stage Monologues of 1998.
Ms. De Silva lives and works in Washington, DC.
Submissions For 2022-2023 will open June 1st.
STEP 1:
To apply for our festival, please email: newplays@growingstage.com and provide the following details in the body of an email:
Play title
Brief synopsis
Approximate running time
Cast breakdown
Intended audience. (i.e. Elementary, Middle School, High School, Family)
Script aligns with The Growing Stage mission. (View Mission)
Development History (i.e. previous reading, production, etc.)
Note: Please do not submit your full script with initial inquiry.
Submission Deadline to follow.

STEP 2:
If your initial submission is accepted for our festival, a full script will be requested. When submitting your full script, please follow these guidelines:
Playwright's name must not be visible anywhere on the script. Please include your name, address, phone, and play title in your email submission cover letter.
Playwrights shall allow the release of their names, addresses, and play titles to The Growing Stage.
If you have any questions about the submission guidelines or festival, please contact Danny Campos, Festival Director at newplays@growingstage.com.
Plays should be intended for young audiences through high school age.
Minimum performance length of approximately 45 minutes.
Musicals are eligible.  Accepted submissions must include a sample recording of the music and lyrics.  Please do not send a written score.
BIPOC plays and playwrights are encouraged.
Adaptations must include proof that permission has been granted from the author to adapt their work.
All scripts must be unpublished and not committed to publication.
No supporting materials accepted.
Two scripts maximum submission.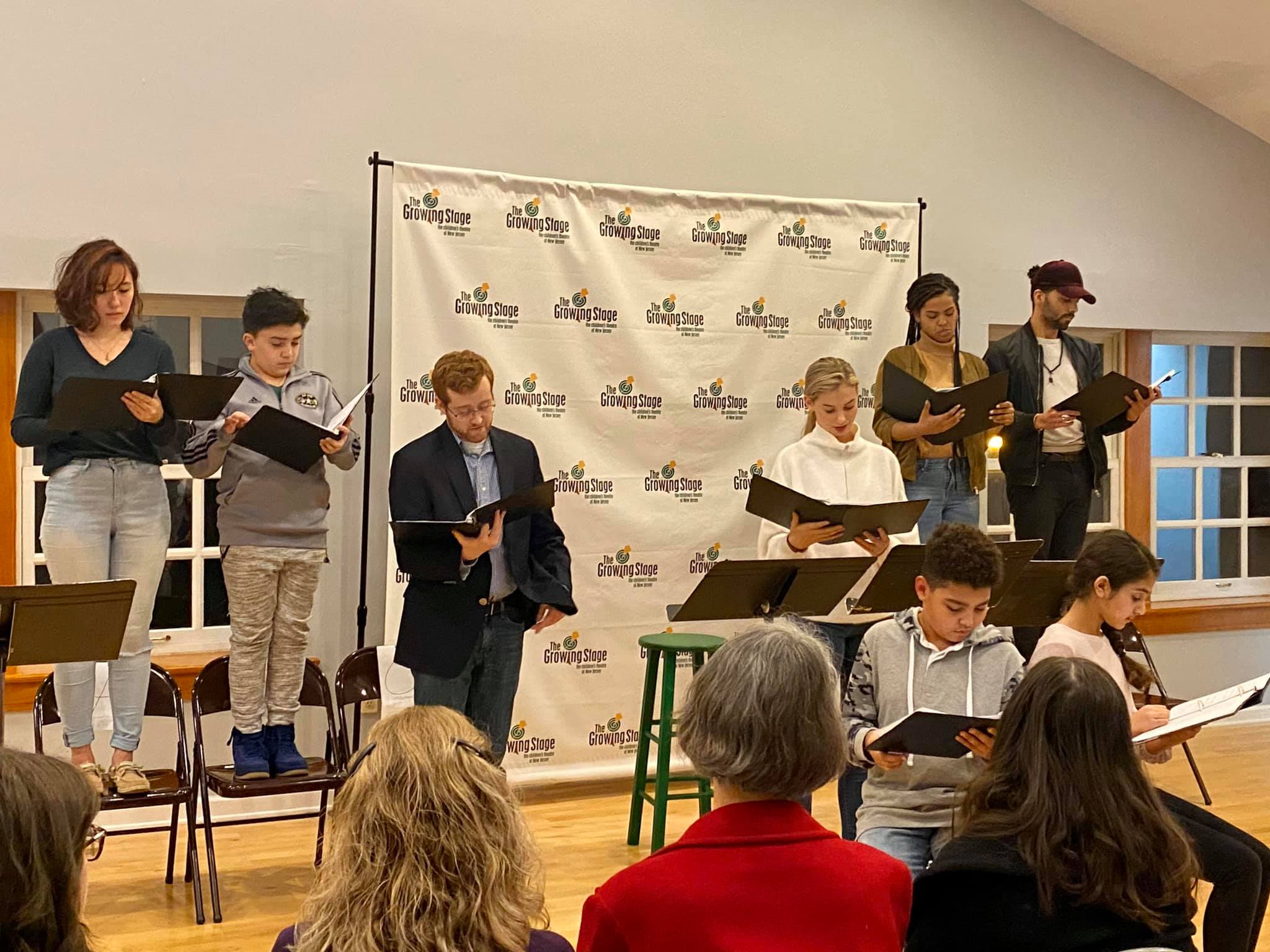 Our New Play-Reading Festival celebrates its 11th Anniversary this season and features four brand new plays for young audiences, chosen from the over 100 submitted works annually. Each piece is carefully read by a select committee comprised of directors, performing and teaching artists, educators and young people. The four finalists are provided two readings during the season, read by professional and community artists in a casual setting. Following each reading a discussion of the work with our professional team and the playwright. Lastly, one of the four plays will be selected to become a fully mounted production next season.
With Two Wings (2012)
Secret Life Of Hubie Hartzel (2013)
And Then Came Tango (2014)
The Book of D (2015)
Box of Stories (2016)
Boy Sees Flying Saucer (2017)
John Henry (2018)
Bunnyboy (2019)
Boogie (2020)
"I knew my children would have a great experience. Watching my daughter dance in her chair and listening to my son ask questions throughout the show, reinforced my belief that this is a hidden gem in New Jersey."