Passionate about the art of acting and eager to explore its captivating realms? Look no further than our Acting Lab! Our program is a haven for individuals at all stages of their acting journey. Whether you're taking your very first steps onto the stage or you're a seasoned performer seeking to refine your craft, our doors are open wide to welcome you.
Embark on a dynamic learning adventure, where each session is a step towards unlocking your full acting potential. Our curriculum is thoughtfully designed to cater to diverse levels of experience. Beginners will find a nurturing environment to cultivate their foundational skills, while more experienced students can delve deeper into their artistry.
Guided by seasoned professionals, you'll be immersed in a variety of exhilarating activities. Engage in the exhilarating world of theatre games, where spontaneity and creativity collide. Immerse yourself in the art of improvisation, honing your ability to think on your feet and breathe life into characters. Every class is a stepping stone towards your personal growth as an actor.
So, if you're ready to take the plunge into a world of creativity, growth, and self-expression, now is the time. Join our program, where the spotlight is yours to command, and let your inner actor come to life. Your transformative journey awaits!
Want to learn more about The Growing Stage of NJ, including our mission, our vision and our history? Read more.
Want to get involved? Reach out.
The Growing Stage is a proud member of The New Jersey Theatre Alliance, dedicated to uniting, promoting and cultivating New Jersey's professional theaters. Learn more here.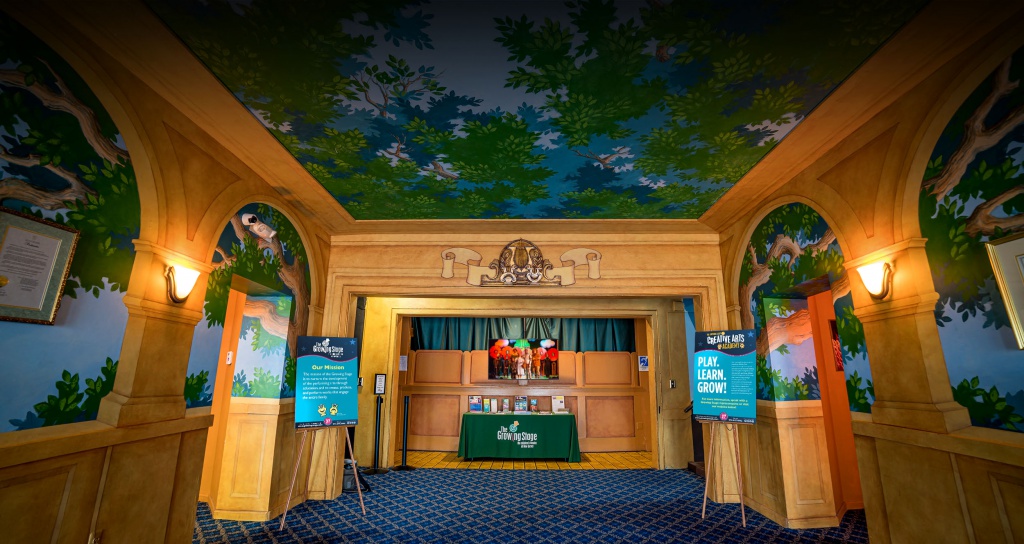 Exploring the World of Creativity: Our Creative Arts Academy Programs
Are you ready to embark on a journey of artistic exploration? Look no further than our Creative Arts Academy programs, where the captivating world of creativity comes to life. Designed to provide young people with immersive experiences and hands-on participation in the arts, these programs offer a rich tapestry of learning opportunities that ignite the imagination and nurture self-expression.
A Canvas of Possibilities: Inclusive Participation for All
At the heart of our Creative Arts Academy lies a commitment to inclusivity and diversity. Whether you're a seasoned artist seeking to refine your skills or a curious newcomer eager to dip your toes into the world of arts, our classes and camps are open to all. We believe that everyone deserves the chance to unlock their artistic potential, and that's why we warmly welcome students of varying backgrounds, experiences, and abilities.
Empowering Through Experience: Learning Beyond Boundaries
The cornerstone of our programs is experiential learning. We believe that true understanding and mastery of the arts come through active participation and hands-on engagement. Through a blend of practical exercises, immersive activities, and collaborative projects, students dive headfirst into the realms of visual arts, performing arts, and more. With guidance from seasoned instructors, they not only grasp artistic techniques but also develop critical skills such as communication, problem-solving, and teamwork.
Cultivating Artistic Confidence: A Journey of Growth
As young participants explore the arts in our Creative Arts Academy, they embark on a transformative journey of self-discovery and growth. Our approach goes beyond teaching technical skills; it's about nurturing artistic confidence and fostering a deep appreciation for creativity. Students learn to embrace experimentation, push boundaries, and celebrate their unique artistic voices. This newfound confidence extends far beyond the studio, positively impacting various aspects of their lives.
A Tapestry of Offerings: Tailored Learning Paths
Our Creative Arts Academy programs offer a diverse range of offerings, ensuring that every student finds their perfect fit. From painting and sculpture to acting and dance, each class is a thread that weaves into the larger tapestry of creativity. For those well-versed in the arts, our advanced classes provide a platform to refine techniques and delve into advanced concepts. Meanwhile, beginners can embark on an exciting journey of discovery, guided by patient instructors dedicated to nurturing their potential.
Building Connections: Collaboration and Community
The power of collaboration shines brightly within the walls of our Creative Arts Academy. Through interactive group projects and joint performances, students learn the art of cooperation and develop meaningful connections with their peers. The studio becomes a vibrant hub of creative exchange, where ideas flow freely and diverse perspectives enrich the artistic process. These connections often extend beyond the classroom, creating a strong sense of community among budding artists.
Cultivating Lifelong Passions: Nurturing Future Artists
Beyond the brushstrokes, dance steps, and theatrical performances, our Creative Arts Academy has a broader mission: to cultivate lifelong passions for the arts. By nurturing creativity, honing skills, and fostering a deep appreciation for artistic expression, we empower young individuals to embark on a lifelong journey of exploration. Whether our students pursue careers in the arts or simply carry their passion as a source of joy and enrichment, the impact of their experience resonates for years to come.
Embracing the Creative Odyssey: Enroll Today
In a world brimming with possibilities, our Creative Arts Academy programs beckon young artists to embrace a creative odyssey like no other. Through immersive experiences, tailored learning paths, and a supportive community, students have the chance to not only discover the arts but also uncover the boundless potential within themselves. So, whether you're an experienced artist or a curious beginner, take the first step toward a vibrant and inspiring artistic journey. Enroll in our Creative Arts Academy programs today and unlock the door to a world of creativity, growth, and endless imagination.